EXHIBITION
Tea Ceremony
-Zen and the the Elegant Pursuits
Period Ⅰ :  October 5th (Sat) to December 22rd (Sun) /
Period Ⅱ :  January 11th (Sat) to March 29th (Sun), 2020
Tea Ceremony
-Zen and the the Elegant Pursuits
Period Ⅰ :  October 5th (Sat) to December 22rd (Sun) /
Period Ⅱ :  January 11th (Sat) to March 29th (Sun), 2020
Overview
The tea ceremony is one of Japan's best-known cultural practices. Its history is deeply intertwined with that of Zen Buddhism. Zen spirituality is an essential part of the tea ceremony, and traces of the tea ceremony are often evident within Zen art. Many of the writings of the most esteemed Zen monks have survived to this day thanks to their prominent place within the tea ceremony.
While the culture of the tea ceremony has been passed down to the present without interruption, it has also changed with the times. From the tea of feudal lords, to the rustic "wabi" tea of Senno Rikyu, the elegantly simple "kirei-sabi" tea of Kanamori Sowa's school in the Edo period (1603–1868), and the tea of modern-day tea ceremony masters, the practice of the tea ceremony has become more diverse as it has spread.
The tea ceremony as practiced at Shokoku-ji has also changed through the ages. In the Japanese Middle Ages, tea ceremonies were held here as occasions for the members of the Muromachi shogunate to appreciate imported Chinese tea accoutrements. Much later, in the Momoyama period, the 16th-century warlord Oda Nobunaga held tea ceremonies at Shokoku-ji, with the great tea master Senno Rikyu among the participants. On these and other momentous occasions, Shokoku-ji played a significant role in the formative years of what would become the modern tea ceremony. In the Edo period, the new tea ceremony that emerged from the cultural sphere of Emperor Go-Mizunoo thrived at Shokoku-ji and its branch temple of Rokuon-ji. Notable tea implements from that era that have been used by people from many different walks of life can be seen here at Shokoku-ji. We invite you to view this collection of spectacular items all under one roof at this exhibition.
Exhibition structure
Exhibition Room 1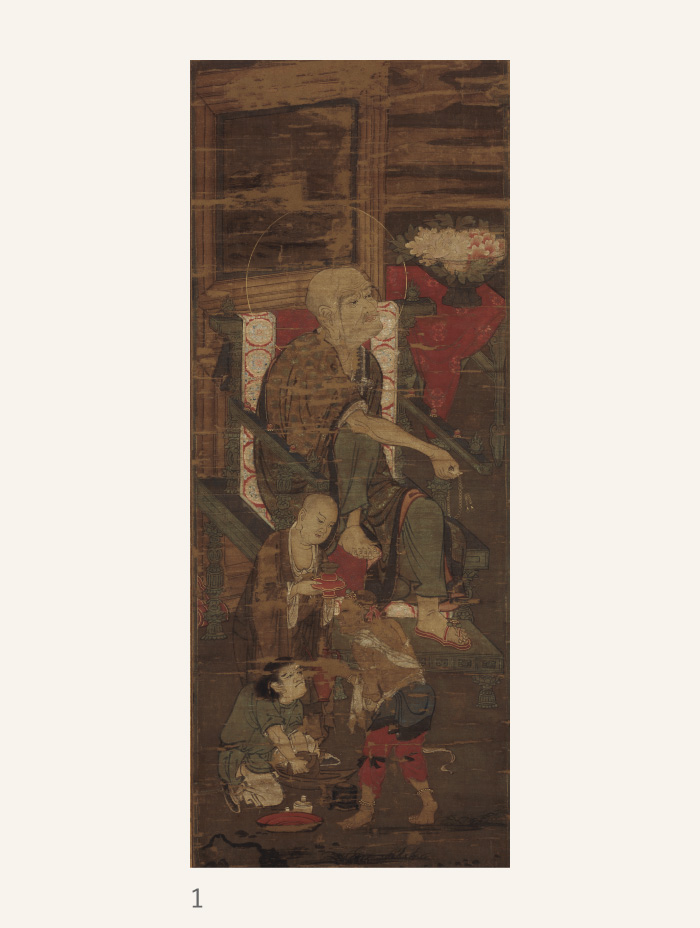 Section 1

Zen and Tea

The tea-drinking culture that was brought to Japan from continental Asia was interwoven with Buddhism. Even at Zen temples, tea had become part of the ascetic life, and the spirit of Zen found fertile ground to flourish within the world of the tea ceremony, which was about to grow larger.

[ Main Works on Display ]
Important Cultural Property Image of Arhat Daikomyo-ji collection *Image 1
Important Cultural Property Writings by Zekkai Chushin Ten Bulls Shokoku-ji collection
Ten Bulls Paintings by Shubun Shokoku-ji collection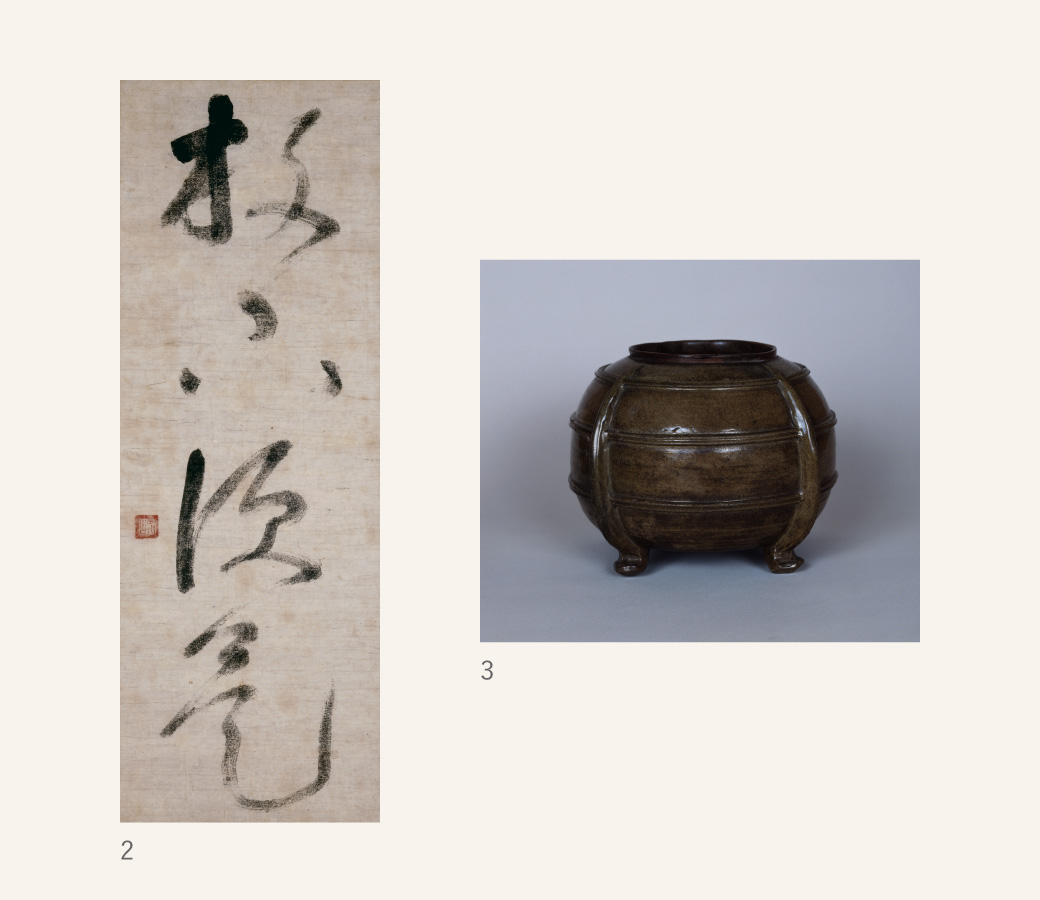 Section 2

Feudal Lords and Tea

Imported tea implements from continental Asia played a central role in the tea ceremonies of the Muromachi shogunate. Shokoku-ji was built under the direction of Shogun Ashikaga Yoshimitsu, and it would thrive at the heart of the culture surrounding the Kyoto Gozan, the region's five leading temples. The Muromachi period (1333–1573) would soon come to a close, making way for the era of Senno Rikyu's school of rustic "wabi" tea.

[ Main Works on Display ]
Important Work of Art Single line of calligraphy Hoge benze by Ashikaga Yoshimitsu Shokoku-ji collection *Image 2
River and Sky in Evening Snow Painting by Mokkei Rokuon-ji collection Exhibition Session II
Scroll of Significance of Tatami Room Floral Decorations (Kundai kanso choki) Calligraphy by Soami Jisho-ji collection
Important Cultural Property Green-glazed four-footed pot Gift from Oda Uraku to Kinshuku Kentaku Jisho-in collection *Image 3
Exhibition Room 2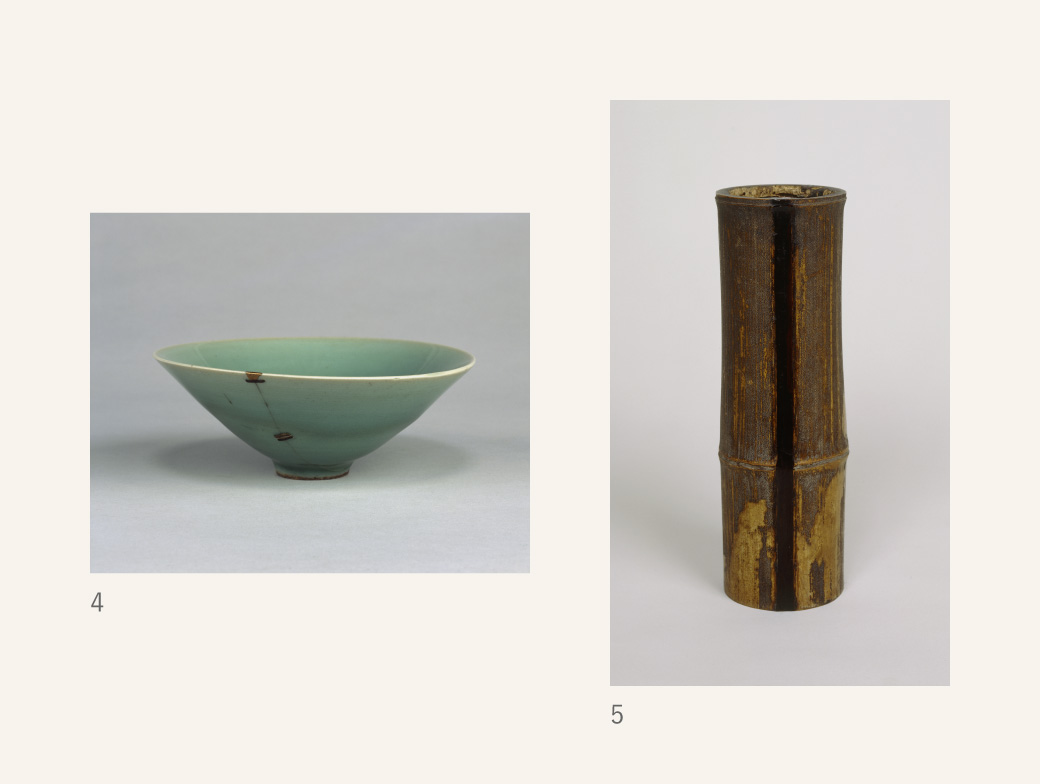 Section 3

The Tea of Kakumeiki

The Edo period found Shokoku-ji strengthening its relations not with the shogunate, but with the Imperial Family. Most notably, Shokoku-ji and Rokuon-ji abbot Horin Josho was a key cultural figure in the Kan'ei era of the early to mid-17th century, which centered on the reign of Emperor Go-Mizunoo. The tea ceremony culture of the era leaps from the pages of Horin's journal, which is also known by the name Kakumeiki.

[ Main Works on Display ]
Important Work of Art Kakumeiki Writings by Horin Josho 30 volumes Rokuon-ji collection
Celadon porcelain tea bowl Amaryu inscription Rokuon-ji collection *Image 4
Bamboo vase With letter from Kanamori Sowa Rokuon-ji collection *Image 5
Standing screen with image of wagtail, dove, long-tailed fowl, and chicken Painting by Kano Tanyu Shokoku-ji collection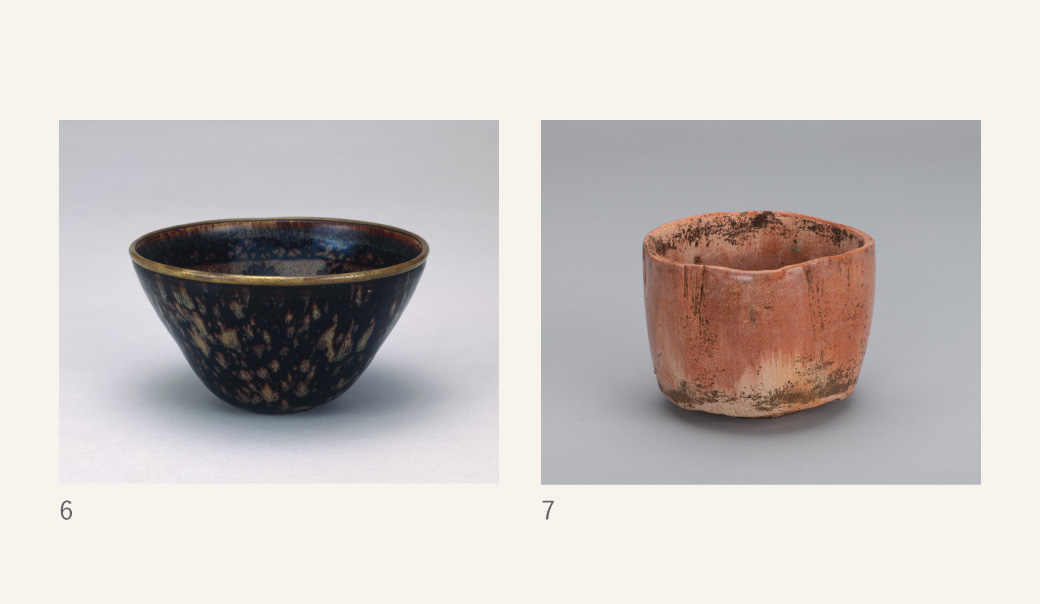 Section 4

Masterpiece Tea Implements and People of Refined Tastes

In the modern era, the treasures that have left the possession of households and Buddhist temples have found homes with businesspeople, people of culture, and other collectors who have come to be involved in the tea ceremony. As a result, many works of art selected by the discerning eyes of these new tea ceremony masters have come to be used as implements in the tea ceremony. It is thanks to the spirit of the tea ceremony that so much Japanese art has been passed down through the ages.

[ Main Works on Display ]
National Treasure tenmoku tea bowl with tortoise shell pattern Shokoku-ji collection *Image 6
Important Cultural Property Red Raku tea bowl Kaga By Honami Koetsu Shokoku-ji collection *Image 7
Important Cultural Property Unfigured rounded iron Ashiya kettle Shokoku-ji collection Exhibition Session I
Important Cultural Property Cloisonné rounded iron Ashiya kettle Shokoku-ji collection Exhibition Session II
Important Work of Art Powder blue openwork incense burner with floral figure Shokoku-ji collection
Important Work of Art Underglaze blue porcelain Takasago vase Rokuon-ji collection
Image of Heron on Willow With Soseki Bonki inscription Painting by Mokuan Reien Jisho-ji collection Exhibition Session I
Important Cultural Property Calligraphy Koganewatashi by Settan tokuko Rokuon-ji collection Exhibition Session II
Highlights
Highlight 1

tenmoku Tea Bowls and Zen Temple Tea Ceremonies

In the display rooms at this exhibition, the first works you will see are tenmoku tea bowls (in Period I, a nogime tenmoku tea bowl; in Period II, a Kiseto juko tenmoku tea bowl). In each section of the exhibition, masterpiece tenmoku tea bowls await at every turn. Among these are a Koseto tenmoku tea bowl presented to the monks of Shokoku-ji by Toyotomi Hideyoshi and a tenmoku tea bowl with a tortoise shell pattern once owned by the daimyo Matsudaira Humai that has since been designated a National Treasure, as well as tenmoku tea bowls featured in works such as standing screens and a designated Important Cultural Property painting depicting an Arhat, or enlightened pupil of the Gautama Buddha.
These are just some of the many tenmoku tea bowls that can still be seen at Zen temples. At Shokoku-ji today, the tea bowls used in tea ceremonies connected to Buddhist services are also tenmoku tea bowls. Near the abbot's chamber, a structure called the "chado," which once served as the room where tea implements were washed, stands to this day. Several tenmoku tea bowls, stands, and trays that are used when hosting large numbers of people at the temple are also among the pieces that will be on display at this exhibition, allowing visitors to experience firsthand the physical forms that accompany tea at a Zen temple.

Highlight 2

Exploring 17th-Century Tea Ceremonies Through the Journal of the Abbot

Section 3 of the exhibition is entitled "The Tea of Kakumeiki." "Kakumeiki" is the name given to the journal that was kept over the course of 33 years by Horin Josho, the 95th abbot of Shokoku-ji and abbot of Rokuon-ji. Born into the noble Kaju-ji family, Horin was a maternal relative of Emperor Go-Mizunoo, and would come to have interactions with many of the leading cultural figures of the Kan'ei era. The personalities of many of the people who made an impact on the tea ceremony during that era are preserved in detail in Horin's journal, such as in the passages detailing his interactions with the tea master Kanamori Sowa. At this exhibition, visitors will have the chance to view some of the legendary tea ceremony implements that are mentioned in Horin's journal, such as a tea bowl given to him by Katagiri Sekishu and a vase commissioned from Kanamori Sowa, along with the journal itself.

Basic information
Dates

Period Ⅰ: October 5th (Saturday) – December 22rd (Sunday), 2019
Period Ⅱ: January 11th (Saturday) – March 29th (Sunday), 2020
10:00 a.m. – 5:00 p.m. (No entry after 4:30 p.m.)
Open every day during the exhibition periods.

Entrance fees

| | |
| --- | --- |
| General admission | 800 yen |
| 65 and older, college students | 600 yen |
| High school and Middle School students | 300 yen |
| Elementary school students | 200 yen |

*For groups of 20 or more purchasing general admission tickets, a discounted rate of 700 yen is available.

Main sponsor

Shokoku-ji Jotenkaku Museum, Nihon Keizai Shimbunsha, Kyoto Shimbun

Sponsor

General incorporated foundation Mannenkai

Cooperation

MBS
Related events
Keynote Speeches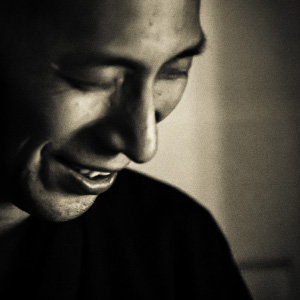 "Appreciating and Using Kettles"
Speaker

Seiwemon Onishi (16th-generation kettle maker)

Dates

November 23rd, 2019 (Saturday)
2:00–3:30 p.m.

Doors Open

1:30 p.m.

Seats Available

80 (first come, first served on the day of the lecture)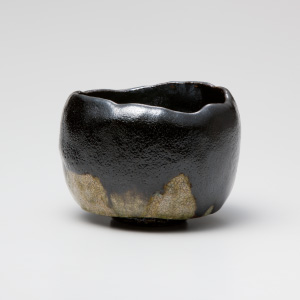 "Chojiro, Koetsu, and Me"
Speaker

Jikinyu Raku (Potter, Raku Kichizaemon XV)

Dates

January 25th, 2020 (Saturday)
2:00–3:30 p.m.

Doors Open

1:30 p.m.

Seats Available

80 (first come, first served on the day of the lecture)
Lectures
"The Tea that Lives at Zen Temples"
February 22nd, 2020 (Saturday) starting at 2:00 p.m.
Lecturer Junko Honda (Curator, Jotenkaku Museum)
Gallery talk
December 7th, 2019 (Saturday) starting at 2:00 p.m.
February 1st, 2020 (Saturday) starting at 2:00 p.m.
Speaker: Junko Honda (Curator, Jotenkaku Museum)
Hands-On Event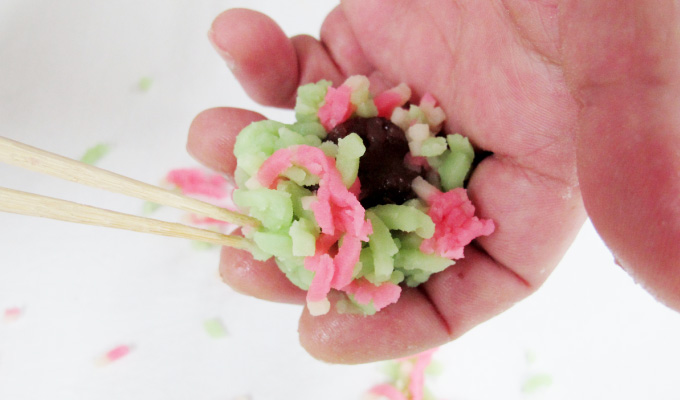 Wagashi Workshop
Try your hand at making Kyoto-style confections
This workshop is led by an artisanal wagashi (traditional Japanese confectionery) maker, whose teaching makes the subject matter easy to understand.
Even if you have never made wagashi before, you will find this workshop welcoming and worthwhile.
Dates

November 9th, 2019 (Saturday) starting at 1:30 p.m.

Instructor

Yoshitomi Tawaraya, traditional Kyoto-style confectioner

Entrance Fee

Adults and students high school age and up: 2,000 yen per person
Elementary and middle school students: 1,000 yen per person

*Please pay in cash at the museum on the day of the workshop.

Places Available

50 (reservation required)

*No further reservations will be taken after all places have been reserved.

Workshop contents

①Confectioner's demonstration
②Wagashi-making class
Each participant will make three different fresh Japanese confections, for a total of three (which may be taken home after the workshop)
③Teatime (matcha and seasonal fancy Japanese fresh confections)

Please bring

An apron, a bandana (for keeping hair in place), a surgical mask

Notes

①Reservations will be taken on a first come, first served basis.
②Please arrive at least 10 minutes prior to the scheduled start of the workshop.
③Participants must be at least 10 years of age.
④If you wish to cancel, in order to help us prepare,
we kindly ask that you notify us at least five days in advance of the workshop.

How to Reserve a Place

Please request a place at the workshop by telephone or by using our online Contact form.
If using the Contact form, please provide
・Your name
・Your contact information (telephone number, email address)
・Please also include the following in the Message (Inquiry) field
Wagashi Workshop Reservation Request
Adults and/or students high school age and up: (number)
Elementary and/or middle school students: (number)


*If you are requesting multiple places, please include the number of places desired, and the name of each prospective participant.

Our Contact form can be found here
Press release
2019/9/1

We have issued a press release entitled The Tea Ceremony: Zen and the Elegant Pursuits